Too many pupils are still unable to see the reality of volume, unable to transform this reality and record, introduce it into material.
The idea, that any thing - or, especially, being - must have its inner order without which it would collapse, is the principle of sculpting since ages. This common order may well be interpreted individually, by each one from a different angle of view.
That's why we must begin approaching our craft by mastering this 'classic base'. An important task, that became somewhat unpopular in the last time. But by succeeding in shaping a figure so that it lives its inner life, a pupil will have a better understanding of further things, bigger and intricate, happening both within a body and outside it - a better understanding of the order and meaning of our world and universe.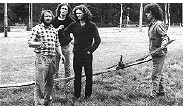 I do not wish to bring up world stars, but human beings, able to stand up the life on their own. This means also a certain sort of morale.
I do not suppose that I only wish to tutor just good craftsmen, which is not bad at all in itself. Moreover, I rather wish to support wondering and searching around, curiosity, and first of all the ability and will to realize what one seeks or has found.

The most important is the ability to look under the surface of the seen. If one masters to get drawn into the fantastic play of changes - metamorphosis, transformations - and present a man, than he is no more without chances to find his place in the fantastic and marvelous curve of life.